April 10th, 2010 by Sean
I'm completely in shock that this Atari 2600 Air Raid cartridge and box just sold for $31,600.00 USD on eBay. At least there is free shipping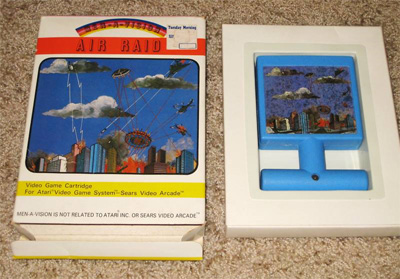 In the last 37 seconds of the auction, things really started to pop. It was at $14,000.00 USD with 48 bids, then kaboom! It jumps from $14,600.00 to $31,600.00 USD with 52 bids for this CIB Air Raid cartridge.
There are not too many of the Air Raid cartridges still around today and this is the only known one complete in box. According to various sources, there are only 13 Air Raid cartridges known to still be around after all these years.
According to eBay seller aa0154:
I clearly remember buying this game back in 1984 or 1985. My mother had taken me to a Tuesday Morning store in Arlington Texas. It was near the corner of Arkansas Lane and Medline Drive. Not too long after I purchased it, I got an Atari 800 and stopped playing the 2600. Since then, the Air Raid cartridge has been boxed up in my garage along with my 2600 and other games for over 20 years. The game box was stored separately and I just found it. I had no idea that I still had these game boxes.
For those who don't follow Atari 2600 cartridge collecting, Air Raid is an R10 on the Atari 2600 rarity scale. R1 is super common and R10 is "Unbelievably Rare".
I wonder who the lucky winner was of this auction? I'm sure we'll hear more about it in the coming days on major internet new sources.
Source: eBay auction – Air Raid cartridge complete in box.

Posted in eBay + Gaming + Shopping |

Comments Off on Atari 2600 Air Raid Cartridge Complete In Box