Atari Lynx
The Atari Lynx is an 8 bit handheld game console that was released by Atari Corporation in October 1989 in North America. The Lynx holds the distinction of being the world's first handheld electronic game with a color LCD.
In July 1991, Atari Corpororation introduced the Lynx II which is the model that I own.
My Atari Lynx II Handheld Console: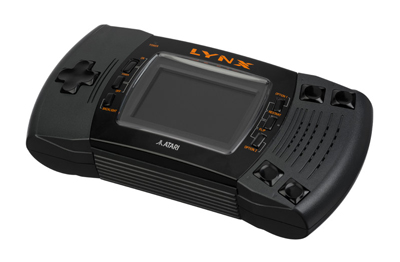 More pictures and detailed information coming soon.
Games included my personal Atari Lynx collection:
All of my Atari Lynx games are complete in box (CIB) except the ones marked with (*):
A.P.B.
California Games (*)
Checkered Flag
Chips Challenge (*)
Crystal Mines II
Dirty Larry: Renegade Cop
Gauntlet: Third Encounter
Hydra
Klax
Ms. Pac-Man
Ninja Gaiden III: Ancient Ship of Doom
Qix
Rampage
Rampart
Road Blasters
Robotron 2084
Rygar (*)
Warbirds (*)
Xybots
Atari Lynx games marked with (*) need boxes and/or manuals. If you can help, let me know.
History:
The Lynx system was originally developed by Epyx as the Handy Game. In 1986, two former Amiga designers, R.J. Mical and Dave Needle, had been asked by former manager at Amiga, David Morse, if they could come up with a design for a portable gaming system.