Apple II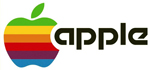 Apple was founded by Steve Jobs, Steve Wozniak, and Ronald Wayne on April 1, 1976, to develop and sell personal computers.
This page is dedicated to my personal vintage Apple II collection of computers and accessories. Enjoy.
Sub links to my specific Apple II computers:
* Mid June 2014 I passed along my complete in box Apple IIc computer to a fellow Apple II Enthusiast friend of mine Jonathan.
Apple II Projects and Hacks:
Apple II Related Links:
I'll keep adding more detailed information on my Apple II collection as time permits.