November 8, 2015 - 11:19 pm - Posted by Sean
Achievement Unlocked! I've acquired an Apple IIgs ROM 3 motherboard: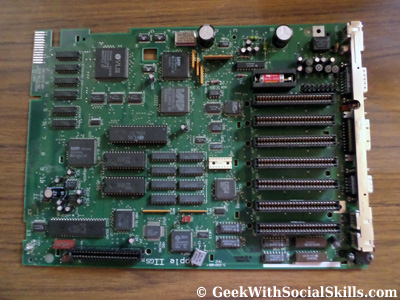 Here's a little bit of information about the Apple IIGS ROM 03:
Apple released ROM 03 in August 1989
Control Panel and real-time clock battery now user-serviceable
Standard amount of RAM increased to 1.125 MB
Additional memory was built-in on the motherboard
New ROM firmware now 256 KB in size and contains the System 5.x toolsets
The newer toolsets increased the performance of the machine by up to 10%, due to the fact that less had to be loaded from disk, tool ROM read access being faster than RAM, and their highly optimized routines compared to the older toolsets (pre-GS/OS based).
In addition to several bug fixes, more programmer assistance commands and features, a cleaned up Control Panel with improved mouse control, RAM Disk functionality, more flexible Appletalk support and slot mapping were added.
I'm pretty excited to have tracked this board down. In the near future I'll be swapping out my ROM 01 PCB with this ROM 03 PCB so I'll have a total of 2 MB of RAM. Game on!